Let's start with the BOHAI HARVEST OPERA Group, which has attracted attention with an insane spending of billions of dollars, acquiring shares in over 20 multinational companies from all over the world.
We also have BHR Partners (Bohai Harvest RST (Shanghai) Equity Investment Fund Management Co., Ltd. ) is a private investment fund founded in 2013 by Chinese and American partners to make investments outside of China.
BHR was founded in 2013 by two asset managers registered in China, Bohai Industrial Investment Fund and Harvest Fund Management, and two U.S. organizations, Rosemont Seneca Partners and Thornton Group LLC.
The registered Chinese asset managers are BOC International Holdings issued under Bohai Industrial Investment Fund Management and Deutsche Bank issued under Harvest Fund Management.
Rosemont Seneca is a consulting and investment firm based in Washington, DC, the founding partners of the company are Hunter Biden , son of US Vice President Joe Biden, Devon Archer who is the Ukrainian gas manager and Chris Heinz.
Rosemont Seneca Bohai's financial records were made public through a separate investigation into the Archer fraud, revealed that the energy company paid Hunter Biden up to $50,000 a month at a time when the United States was closely involved in Ukraine's response to Russian aggression in the region.
Hunter Biden was a member of the board of directors of Burisma Holdings, a major Ukrainian natural gas producer, from 2014 to 2019.
His friendship and connection with Devon Archer is important because it appears that Jon Biden has been working to cover up an investigation into corruption in Hunter Biden's Ukrainian business dealings.
The "Ukrainian gas executive" Devon Archer is an American businessman who served on the board of directors of the Ukrainian oil company, Burisma Holdings Ltd, along with Hunter Biden.
In 2018, Archer was involved in a legal case involving the fraud of a Native American tribe and multiple pension funds.
Christopher Heinz is instead an heir to the Heinz family fortune, of Heinz 57 Ketchup
Returning to the company, we must remember that Rosemont Seneca Partners is a private investment company that works with a Chinese company called Bohai (or Bo Hai).
Their joint venture is called Bohai RST (Bohai Rosemont Seneca Thornton). Thornton is the Thornton group representing the interests of the Bulger family.
Bohai is owned by the Bank of China and the Chinese army. Bohai RST has sold American military drones and aeronautical technology to the Chinese military.
Thornton Group is a Boston-based cross-border investment advisory firm founded by Michael Lin and James Bulger, son of former Massachusetts Senate Chairman William Bulger Democrat.
The "RS" in Bohai Harvest RST stands for Rosemont Seneca and the "T" stands for Thornton Group.
The latter group is a Massachusetts-based international consulting firm founded by James Bulger, son of Kerry's former ally and former president of the Massachusetts Senate, William Bulger.
Whitey Bulger was convicted of 19 murders in 2013 and killed in prison months before the Mueller report was made public. Bulger was an FBI informant while Robert Mueller and Bill Weld served in the U.S. Attorney's office in Boston in the 1980s and 1990s. Bulger appointed Mueller as a defense witness.
When Mueller became director of the FBI in 2001, Bulger became a fugitive and was number 2 on the FBI's top 10 most wanted list behind Osama bin Laden.
U.S. Attorney John Durham investigated corruption in the Boston FBI and the U.S. Attorney's office in the 1990s.
The company began in 2014 to raise $1.5 billion for investment, some in dollars and others in yuan .
Investments in yuan were to be converted into U.S. dollars through the Shanghai Free Trade Area , facilitating offshore investments for Chinese investors.
The website states that the company has "the support of Bank of China , China Development Bank Capital and other major Chinese financial institutions.
The son of former vice president Joe Biden has spent much of the last decade building overseas investment and trade agreements, agreements that could complicate his father's rise to the White House presidency by posing a number of potential conflicts of interest.
Hunter Biden's investment firm in China, known as Bohai Harvest RST, has raised funds, largely from state venture capital, to buy or invest in a number of industries in the United States and China.
Bohai Harvest has invested in an independent company in China.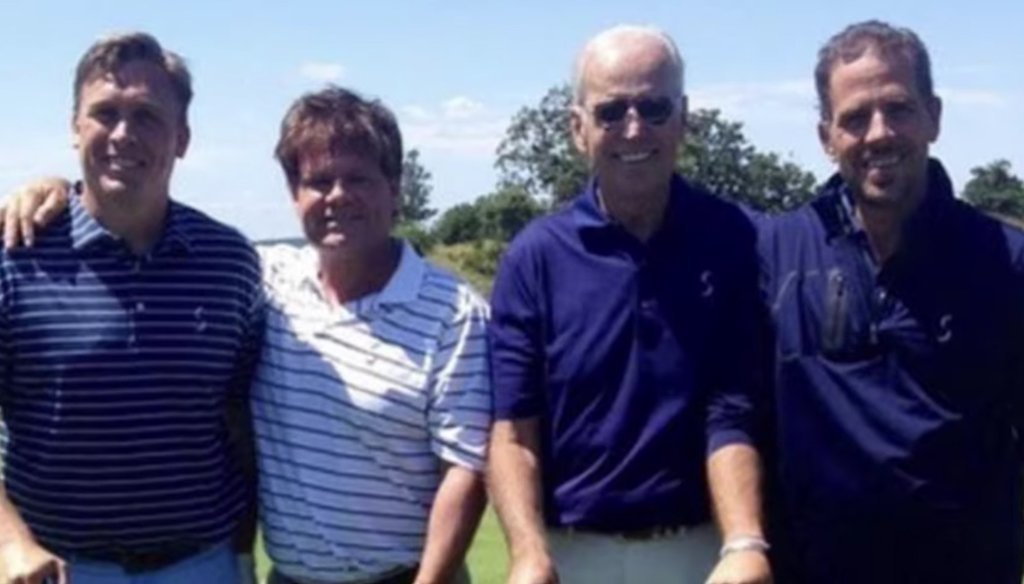 Devon Archer (far left) is pictured with Joe and Hunter Biden. (Screenshot from Twitter)